Blog Archives
THE WORST PEOPLE RUNNING IN 2020, RANKED
I'm taking a break from examining COVID-19 conspiracy theories, which are proliferating stronger than ever with the circulation of a documentary titled Plandemic this week. I want to talk about something approaching on the horizon– the 2020 elections. In addition to deciding whether Trump will be in office another 4 years, there are a number of campaigns that are disturbing. Racists, "men's rights" activists, hardcore conspiracy believers, and uh…people raffling off AR-15s are all throwing their hat into the ring year. The chance, no matter how thin, that any of these people could be elected into public office is sad and frightening. Personally, it's inspired me to never miss a local election, no matter how mundane. Here then is a countdown of 8 groups or individuals running for office.
8.) QAnon, conspiracy cult with candidates in 17 states
First, let's check in on the story of QAnon followers running for office. QAnon is a conspiracy cult that believes there is a satanic-pedophile-Deep State ring of Trump enemies– Democrats, intelligence agencies, "Lamestream media," etc. and that Trump has a plan called "The Storm" that will round them all up and arrest them.
QAnon has been in the news a lot lately for violent, frightening activity. A mother arming herself and kidnapping her children (she didn't have custody) and a woman who drove to New York with a dozen knives, ranting about how she was going to kill Joe Biden, are just a couple of the most recent ones. The recent failed coup attempt in Venezuela strangely included a mercenary who was into QAnon. These are strange times.
On February 13, I wrote a column titled "There Are Two Dozen Members of QAnon Running for Congress" about the disturbing news that QAnon followers were running for office across the country.
Bad news: the number of QAnon campaigns jumped from 24 to 39. More bad news: QAnon has created their own super PAC to support these candidates, called "Disarm the Deep State." Kinda good news: After some of the recent elections, 15 of the candidates have dropped out or lost primaries. That means 24 still remain, including some who have advanced to be on ballots in California (7 out, 3 still in) and Texas (1 out of 5 still in). 
You can find a regularly updated list of all QAnon candidates by Media Matters for America here: "Here are the QAnon supporters running for Congress in 2020."
7.) Paul Broun, Gun Nut, Georgia's 9th District [UPDATE: lost in June 9 primary]
Sign up for e-mail updates, possibly WIN a free AR-15! (must be at least 17 to enter)! 'Merica! Trying to take advantage of pandemic fears, Paul Broun, running for Congress in Georgia's 9th district, released a cartoonishly bad fearmongering campaign ad. As New York magazine reports:
That's right: Dr. Broun's campaign is giving away an assault rifle (a.k.a. a "Liberty Machine") to a lucky correspondent eager to repulse "looting hordes from Atlanta" (e.g., black people) or "tyrannical government from Washington" (an epithet that worked better when that Kenyan Muslim was president).
Bonus point: he also believes evolution theories he was taught are "lies straight from hell." Here is Broun's "Liberty machine giveaway" ad:
6.) Arthur Jones, Literal Nazi, Illinois' 3rd District (LOST IN PRIMARY)
Art Jones, I'm sad to say, is a product of my home state of Wisconsin (Beloit). He's a former American Nazi Party leader, holocaust denier, and perennial attention seeker that has run for office many times since 1976, campaigning as candidate for mayor of Milwaukee, mayor of Chicago, Chicago City Council, and Congress.  Jones was a fan of Trump and voted for him in 2016, though he later said he regretted it as Trump "surrounded himself with hordes of Jews." He was one of several white supremacists who ran for office in 2018 and ran unopposed in the Republican Party in Illinois' 3rd congressional district. He lost to his Democrat rival, but got almost 58,000 votes.
Embarrassed Republicans put in an effort to squash his candidacy with a "Say No to the Nazi" campaign this year and he came in last in the March 17 primary. Even though he lost, I wanted to mention his campaign to point out that he still managed to get 1,637 votes– that means there are either 1,637 people in Illinois' 3rd District who have no idea who they are voting for OR are just totally cool with a Nazi representing them.
5.) Matt Gaetz, gasmask enthusiast, U.S. House of Represenatives, Florida's 1st District
GQ calls him the "Trumpiest Congressman in Trump's Washington." Here's a quick few things about Matt Gaetz– in 2017 he crowdsourced a house resolution that "primarily used content from /r/The_Donald, 'a pro-Trump subreddit notorious for both its embrace of conspiracy theories and its gleeful offensiveness.'" In 2018 he invited an Alt-Right holocaust denier to Trump's State of the Union address. In 2019, he tried to intimidate a witness, Trump's former attorney, Michael Cohen. His most recent controversy was wearing a gas mask on the floor of the House as an apparent mockery to "fake news" about COVID-19. Not long after he was placed under quarantine when it was determined he had been in contact with a COVID-positive attendee of the Conservative Political Action Conference.
4.) "Sheriff Joe" Arpaio, Concentration Camp creator, Maricopa County Sheriff
Joe Arpaio's legacy will be of racially profiling to fill up his "Tent City," an outdoor detention facility he proudly compared to a "concentration camp," where immigrants are kept in a furnace-like tent that "could reach up to 141 degrees," according to the ACLU. Women prisoners were "denied basic sanitary items," and prisoners were forced into solitary confinement and chain gang work. He's had dozens of lawsuits related to abuse of power over the years. He lost re-election in 2016. His racial profiling led him to be convicted of criminal contempt of court in 2017, but Trump, a big fan (Sheriff Joe was a huge supporter of the racist Birther conspiracy theory and Trump's border wall) pardoned him. This year Sheriff Joe is trying to get his old job back. The Phoenix New-Times reports he has so far outraised all other candidates, most of it from out-of-state donors.
"I'm in this to win," Arpaio saus, according to Phoenix New-Times. "I'm not taking any prisoners. My posse that I started years and years ago is coming back. A lot of things are coming back."
3.) Enrique Tarrio, Proud Boys chairman, Florida's 27th District and Nick Ochs, leader of Hawaii Proud Boys, Hawaii's State Rep for District 22 (Honolulu).
The Proud Boys are an Alt-Right group that are racist, homophobic, sexist, just all around pro-toxic masculinity. Just take a look at the group's initiation process. From Wikipedia:
The first stage is a loyalty oath, on the order of "I'm a proud Western chauvinist, I refuse to apologize for creating the modern world"; the second is getting punched until the person recites pop culture trivia, such as the names of five breakfast cereals; the third is getting a tattoo and agreeing to not masturbate; and the fourth is getting into a major fight "for the cause."
The group has a history of showing up to cause violence at protests, and were present as part of the Alt-Right coalition at Charlottesville. Most recently, they've been using the anti-lockdown protests as rallying points.
Enrique Tarrio is the chairman of the Proud Boys and is running for Congress is Florida's 27th District (Miami area). A second Proud Boy, Nick Ochs, who leads the Proud Boys chapter in Hawaii, is running for State Representative in District 22 (Honolulu).
2.) Laura Loomer, "social media martyr turned Trumptastic tribute*", Florida's 21st Congressional District
Laura Loomer is a "political stuntwoman" who got her start working with Project Veritas, and specializes in crashing events to grab attention for herself. Her first famous stunt was disrupting a Shakespeare in the Park performance of Julius Caesar in 2017. The play featured a Caesar that looked like Donald Trump and Loomer got onstage and started shouting about political violence.
She grabbed the mic at a women's march in 2019 and told the marchers that they were "Nazis," and filmed herself and others dressed in sombreros and fake mustaches trespassing onto Gov. Newson's property as some kind of statement on immigration, among many other similar stunts as well as ambush "journalism" confronting targets in public. She calls this "Loomering" someone. She's supported by InfoWars and has promoted "false flag" theories about mass shootings, suggesting they were orchestrated to produce outrage to repeal the 2nd Amendment.
Racist comments led Loomer to be banned on Twitter, Facebook, Instagram, PayPal, Venmo, GoFundMe, Medium, Lyft, Uber, and UberEats. The latter ride service bans came from Islamophobic comments about cab drivers. After she was banned from Twitter, she handcuffed herself to the social media giant's front door.
One reason Loomer ranked so high on this list is that her campaign is picking up steam– she's already raised over $600,000, more than her eight Republican primary candidates combined, making it likely she'll be taking on the Democrat incumbent of the district she's running in. An endorsement of her was retweeted by Trump. Speaking of…
*"Laura Loomer is the Congresswoman Donald Trump Deserves," The Bulwark
1.) Donald J. Trump, unhinged conspiracy promoter, President of the United States
Let's not forget who made all this possible. Trump's constant entertainment of conspiracy ideas paved the way for most of the people on this list. He retweets QAnon believers and an array of other conspiracy pushers, shares disinformation from sites like Breitbart News, and stokes the fires of racism, hate, and paranoia. Anything that damages his massive ego is attacked as "fake news," with journalists labelled as "the enemy of the people." As we've seen, he is exactly the type of person you don't want in the face of a pandemic as COVID conspiracy belief has reached dangerous levels. Don't let the dystopia continue– vote Trump out and shut down his army of delusional, hate-filled, backward thinking proteges.
A couple observations:
-All of the candidates on this list are/were running as Republicans.
-What in the fuck is going on in Florida, especially Districts 21 and 22? Between the two there are 5 QAnon candidates and Laura Loomer. The districts include Palm Beach, Boca Raton, Fort Lauderdale, Pompano Beach, and most relevant– Trump's Mar-a-Lago resort, so perhaps the proximity to Trump?
-Good luck, human race. And don't forget to vote. This is by no means an exhaustive list. Check your local elections and take a look at who is running– you might be unpleasantly surprised.

My upcoming book American Madness features a journey through conspiracy culture. It's out August 25, 2020 from Feral House. To pre-order: CLICK HERE
It's on Goodreads here: https://www.goodreads.com/book/show/52486773-american-madness
Follow me on:
Facebook//Twitter//Instagram//YouTube
"Having just returned from the grocery store during an official pandemic, I'm reminded to highly recommend Apocalypse Any Day Now, from Tea Krulos, who went way down the doomsday prepper rabbit hole. Fun and unfortunately highly relevant. Do it." — Brent Gohde, Cedar Block/ Science Strikes Back
OR "WEIRD DAY?" "WEIRD HOUR?" "WEIRD TIME IS AN IRRELEVANT CONSTRUCT?" 
Well, my column title says it all. To support this theory, I'll do as a conspiracist does and string some random crazy scraps together with pieces of yarn. The COVID-19 pandemic has made people snap. Yesterday we got news that a Waukesha, Wisconsin man murdered 2 family members and the family dog (and injured 2 more) back in March (the details were just made known in court) after fears of coronavirus overtook him. In Texas, a Trump supporter named Karen posted a screed dismissing the virus as a "media driven" hoax, and that:
They are leading with fear causing you to panic like sheep…you don't need hand sanitizer, toilet paper, and Lysol. You need common sense, a sense of direction, faith, a will to fight, and of course, guns!
Well, Karen is dead. She died from COVID-19. The stories are coming in so thick and fast, this column could be re-branded as "Tea's Weird Day." Consider, for example, these stories from the last few days:
Conspiracy Theorists Are Destroying 5G Towers Because They Believe There is a 5G/Coronavirus Connection
Over the past week, conspiracy theorists have destroyed the following: a train (see last week's column: "Conspiracy Theory Trainwreck"), "at least twenty" 5G towers, and quite a few of my brain cells. The hottest conspiracy this week is that 5G Internet is linked to coronavirus. The theory is that "5G radiation" is either exacerbating coronavirus symptoms or that the symptoms are from 5G and the virus was invented as a cover story.  The theories are being spread by a coalition of conspiracy theorists– InfoWars, QAnon, Anti-vaxxers, and David Icke.
David Icke. Yeah.While wrapping up my book American Madness (out in August) I was like gee, I hope there's some conspiracy stuff going on in 2020 to talk about when the book comes out. Ha! Be careful what you wish for–the last couple months have been an American Madness reunion party– Alex Jones and QAnon have been in the news frequently, and now the sudden bump in interest in Icke. If you don't know who he is, David Icke is a British conspiracy theorist who has been ranting and raving since the 90s, churning out conspiracy books and delivering lectures, which average 9-10 hours long (that's not a typo.) He's most infamous for his theory that a race of extra-terrestrials called the Reptilians (aka "Lizard People") have infiltrated earth and disguised themselves as human world leaders.
Now, through a show called London Real, Icke has reached millions of viewers. The most recent Icke episode was removed by YouTube as the platform cracks down on coronavirus misinformation (as you'll see in American Madness, YouTube is often too little, too late on these policies.) The YouTube ban has only given Icke more street cred. Across the UK about twenty 5G towers have been burned or otherwise destroyed or damaged, most recently in Belfast, Liverpool, and Birmingham. Some of the towers were actually 3 or 4G towers. There is a growing call on the Internet for people to destroy more.  Tech engineers are being threatened on the street. Obviously, the spread of this idea has dangerous implications– communication systems are being targeted during a pandemic.
What's even more disappointing is that several celebrities have helped entertain and spread the misinformation, including John Cusack, Woody Harrelson, M.I.A., and others (though some have since deleted their posts). I think this is a great place to note that we all want to envision someone spreading conspiracy as an obnoxious Alt-Right bloviating gas bag like Alex Jones, screaming and pounding his fist about chemicals in the water "turnin the frickin' frogs gay!" or saying that Hillary Clinton is a literal demon, but that's not always what it looks like. Sometimes it'll be someone you admire or a friend. Just be aware of that, especially if they ask you to…
Holy Moley! Pray for the Mole Children
When I first started my book, I always thought I might find the bottom of the rabbithole, the craziest conspiracy of all. The Bohemian Grove? Reptilians? Flat Earth? Birds Aren't Real? Nah, keep falling. But QAnon's latest theory has got to be a contender– that coronavirus is actually a cover up to rescue the mole children. Yes, won't someone think of the mole children?
Here's the theory: QAnon says that there are thousands of "mole children" living in tunnels underneath Central Park. As Wonkette reports on the theory:
They have, of course, been bred for the specific purpose of being sex slaves, but also for being eaten and having their adrenal glands harvested so "elites" can get high on their adrenochrome. Which, for the 47,000th time, is not a thing anyone can get high off of.
The coronavirus emergency center set up in Central Park, they say, is to treat the mole children, some of whom are deformed or sensitive to light from living in the tunnels. Rescued children are then moved to hospital ships like the Comfort in New York and Mercy in LA (which was also the target of the guy who derailed the train there last week.)
Do people actually believe this? Yes. Are they praying for the Mole Children? You bet. Are they writing goddamn poetry about them? Hell yes.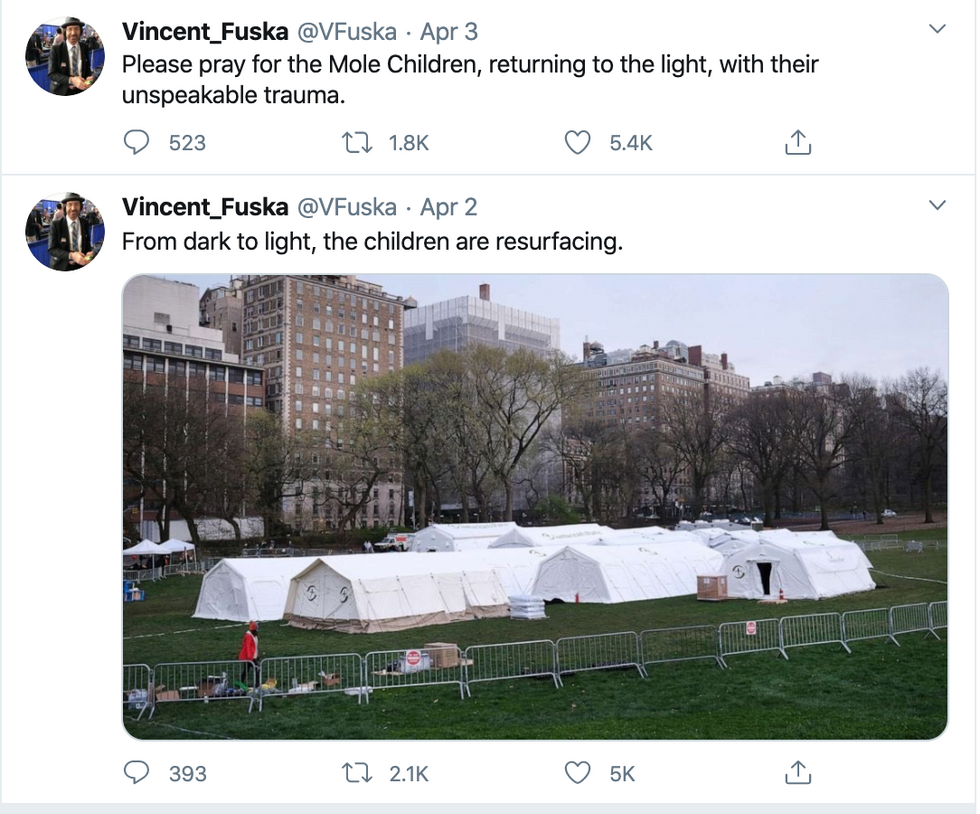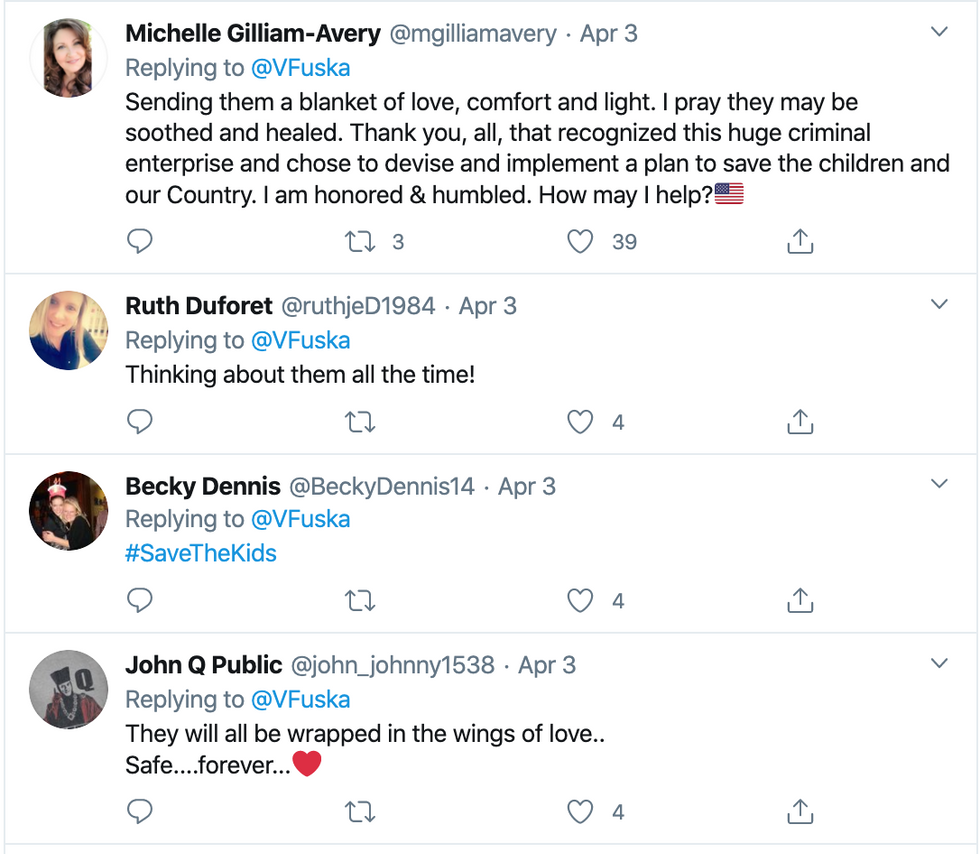 Read more: "QAnon Idiots Very Concerned About Mole Children Now," wonkette.com
One of Wisconsin's Darkest Days 
On a personal note, Tuesday was an extremely fucked day in Milwaukee, the city I love. It was a batshit, terrible, dystopian day. We have a stay-at-home edict, Summerfest and the Democratic National Convention were both postponed, but the election was ordered to go on here. Not only that, but the usual 180 plus polling locations were reduced to 5 for the entire city of Milwaukee, population of about 600,000. Waukesha, a suburb of 70,000, had 1 open. Thousands of absentee ballots were requested but never arrived. Lines to vote stretched on for blocks of brave voters who had to choose– risk their health or vote. Trump's words on the situation: "not my problem." These games being played with people's lives have left me sad and angry.
The next day, Bernie Sanders dropped out. Let's ask the important questions here, like the 5 Ws (no, not the 5Gs, settle down) which are: Who, What, Where, When, and of course:
Ok! Excuse me now while I dunk my head in cold water and try to get through the rest of this week. Best wishes to all of you out there in this crazy world.

My upcoming book American Madness features a journey through conspiracy culture. It's out August 25, 2020 from Feral House. To pre-order: CLICK HERE
It's on Goodreads here: https://www.goodreads.com/book/show/52486773-american-madness
Follow me on:
Facebook//Twitter//Instagram//YouTube
"Having just returned from the grocery store during an official pandemic, I'm reminded to highly recommend Apocalypse Any Day Now, from Tea Krulos, who went way down the doomsday prepper rabbit hole. Fun and unfortunately highly relevant. Do it." — Brent Gohde, Cedar Block/ Science Strikes Back
Every Saturday during quarantine, I'm hosting online trivia via Facebook Live:
Yesterday, a man named Eduardo Moreno, a locomotive engineer from San Pedro, drove a train at full speed toward the Port of Los Angeles. He was holding a safety flare in the train's cab as the train burst through a series of barriers. Moreno was hoping for an action movie like stunt where the train would jump the rails at the end of the track and fly through the air and crash into the nearby docked USNS Mercy hospital ship, which had recently arrived to help with hospital overflow from the coronavirus pandemic.
The train skidded out in a gravel lot, about 250 yards from the ship. No one was injured, though there was a "substantial amount of fuel oil" that needed to be cleaned up. Moreno was immediately arrested and charged with "train-wrecking," which has a sentence of up to 20 years.
Moreno told authorities his goal was to "wake people up," and said "you only get this chance once. The whole world is watching. I had to. People don't know what's going on here. Now they will." It's not known yet exactly what Moreno was hoping to wake people up to, other than he believed the Mercy was part of a plot for a "government takeover." Conspiracy theories about COVID-19 are thick and heavy and often revolve around the virus being a bio-weapon or a hoax, designed to implement a Deep State coup followed by martial law.
This story is familiar to me. I have a new book coming out in August titled American Madness: The Story of the Phantom Patriot and How Conspiracy Theories Hijacked American Consciousness (Feral House). American Madness tells the story of a man named Richard McCaslin, who styled himself as a conspiracy commando and called himself the Phantom Patriot. Heavily influenced by Alex Jones (of InfoWars), Richard raided a secret society retreat called the Bohemian Grove in 2002, where he was arrested. He was hoping to "wake people up" to the alleged human sacrifices going on there. My book tells his story, but it also follows a pattern. Richard was the first one who took drastic action after listening to the words of Alex Jones (and others of his ilk) but not the last.
Some other conspiracy theorists who have snapped include Byron Williams, aka the I-580 Shooter, who had a shoot out with the California Highway Patrol after he was pulled over on his way to shoot up charities associated with liberal boogeyman George Soros in 2010. Oscar Ortega pulled up to the White House in 2011 and fired shots at it after seeing an Alex Jones documentary titled The Obama Deception. Jared and Amanda Miller, InfoWars fans, killed three people and themselves in a Las Vegas shooting spree.
In 2016, Edgar Maddison Welch, armed himself and raided a Washington DC pizzeria named Comet Ping Pong. Like McCaslin and Moreno, Welch was hoping to "wake people up" to a Democrats child sex trafficking ring being run out of the restaurant's basement. That same year, two Georgia men named Michael Mancil and James Dryden Jr. were arrested in a plot to drive to Alaska and sabotage the HAARP facility, based on a conspiracy that says it's a government brainwashing facility.
Was Moreno inspired to drive his crazy train by Alex Jones? We don't know yet. But I doubt he came up with this theory out of the blue. Someone put the idea in his ear and I don't think it was Rachel Maddow or Anderson Cooper. Like a bad penny, InfoWars is the one who usually shows up in these cases.
Source: "Man charged with intentionally derailing train near hospital ship Mercy over coronavirus concerns," Los Angeles Times
Update, April 4: Moreno has been denied bail and will be arraigned May 7. It looks like a probable influence on him was QAnon, who have been spreading conspiracies about the Mercy. QAnon is saying the Mercy will be shipping COVID-19 patients to Guantanamo Bay as well as other theories that the disease is a bio-weapon designed by China and/or Bill Gates to discredit Trump. But they've also said the virus is a hoax to implement martial law. Let's not forget that about two dozen of these people have campaigns running for Congress this year: https://teakrulos.com/2020/02/13/teas-weird-week-there-are-two-dozen-members-of-qanon-running-for-congress/
Source: "Coronavirus conspiracy theorists are too nuts even for a zombie-apocalypse movie scenario," Daily Kos
My upcoming book American Madness features a journey through conspiracy culture, including QAnon. It's out August 25, 2020 from Feral House. To pre-order: CLICK HERE
Follow me on:
Facebook//Twitter//Instagram//YouTube
"Journalist Tea Krulos has made a curious and enlightening career out of examining groups of people with odd beliefs." — Skeptical Inquirer
—
Oh yeah, and don't forget that our president is a conspiracy theorist! This week's #TrumpConspiracyCounter 2020 (now at 177 clicks) column talks about Trump's theory that there is a face mask black market. Read it here: https://teakrulos.com/2020/04/01/trumpconspiracycounter-april-1/
—
This Saturday have some social distancing quarantine fun and play Tea's Weird Week Trivia! You can win copies of my book, books from my library, and goofy fun prizes like bigfoot socks, shark hologram bookmarks, and more. It's at 5pm central via Facebook Live video: www.facebook.com/theTeaKrulos