Blog Archives
SPECIAL POST-FATHER'S DAY COLUMN LOOKS AT REX JONES, GARETH ICKE, and DONALD TRUMP JR.
Ideas are passed down generation to generation and they're aren't always good ones. It was Father's Day last weekend and I stopped by to visit my dad. He's a pretty cool guy, and I appreciate some of the things he brought into my life, most notably his love of music, old sci-fi, horror, and mystery movies, and most importantly, his love of reading.
I like to think I've picked up some traits from my dad but manage to be my own person. But some guys are either the polar opposite or nearly identical to their fathers. On the latter, they say that the apple doesn't fall far from the tree.
Timed perfectly with Father's Day was a screenshot shared on social media which showed that Rex Jones, eldest son of conspiracy peddler and scam artist Alex Jones, had his own InfoWars show where he used his air time to rage against… Lord of the Rings themed erotica? Well, by now some of you probably know that I can't look away from a car crash, so I decided to dive into the murky waters of the Internet and see if this was true. And yes, it more or less is.
Rex has been trained in the dark arts of The Alex Jones Show for a few years. There was some father and son bonding time on vacation in 2018, for example, when they ambushed and harassed Bernie Sanders at an airport (LAX), chasing after the senator and declaring that he was "the living embodiment of communist and socialist evil."
"Very disturbing to see my son doing this," commented Alex's ex-wife, Kelly, at the time. She would later cite the incident in an ugly custody battle. "Plus they are calling out Bernie Sanders on his elite lifestyle, which is hypocritical. So my son is being encouraged to be a bullying hypocrite." What Alex's ex is referring to is the millions of dollars Alex Jones and InfoWars have made on pain, misery, lies, and sham products sold on their website.
In the last couple years Rex has appeared as a teenage correspondent on InfoWars. Now that he's 18, Alex has perhaps told him he needs to be a man and start pounding a fist on the InfoWars desk and screaming about the dangers of the Deep State and liberal elites and communists. And so Rex makes guest appearances on InfoWars shows like The American Journal and has his own short video segment called Doctor Silence with Rex Jones. I don't know what "Doctor Silence" refers to, but maybe it's his fantasy superhero persona. We're going to talk more about fantasy fulfilment in just a minute.
Rex has his imitation of his father down pat– the loud mockery, the crescendo of outrage, the angry hand gesture as punctuation. He's going to need to chain smoke and start screaming more if he wants to develop his dad's gravelly voice, though.
In his videos, Rex has ranted about masks and Black Lives Matter protestors, and a Blue's Clues episode that aired earlier this month that features a Pride Parade. Not surprisingly, Rex's interpretation of the cartoon was homophobic, transphobic, and generally rambling and stupid– at one points he asked what happens when someone on OnlyFans has a kid and years later their child sees their mom "performing cunnilingus on a man." At first I thought this was some joke about transpeople, but I'm guessing Rex hasn't received an adequate sex education and therefore might not be familiar with what cunnilingus is.
On a June 18 episode of The American Journal, hosted by "white genocide" conspiracy advocate Harrison Smith, Rex made an appearance to talk about his rage about interpretations of the sexuality of Lord of the Rings in fanfic erotica, thought the main thing that seems to have set off Rex and Harrison was a list of upcoming talks offered by the Tolkien Society for an online seminar July 3-4, with an overall theme of "Tolkien and Diversity."
Some of the talk topics riled the Infowarriors up, like the one titled "Gondor in Transition: A Brief Introduction to Transgender Realities in The Lord of the Rings," to which Rex Jones says that as a war veteran, J.R.R. Tolkien is "used to seeing people get their legs chopped off, not their dicks. Holy Hell! You can't make this stuff up!" They went on to talk more about the seminars and took a look at some Lord of the Rings fanfic erotica pictures.
I think that these guys have a deeply closeted elf fetish. It's ok Rex, you can be attracted to elves or dwarves or orcs or whatever the fuck you want to.
"They're just going back and ruining anything that was enjoyable and nice for anyone," is the Rex Jones take. "You don't get to listen to the music you liked, you don't get to watch the movies you like, you don't get to read the books you like, you don't get to live the life you like to live. You have to live in their weird rainbow PC playground and play by their rules or they'll throw you in jail."
To be clear, all of Tolkien's work is still in print, widely available, and legal to purchase or get from your local library in it's original published form.
In the same segment Rex manages to throw is a comparison that Joe Biden is "the Fuhrer" and Kamala Harris is "Goebbels."
Alex Jones couldn't bloviate that better himself.
After posting a screenshot of the above story to Twitter, someone informed me that another famous conspiracy peddler, David Icke, the British theorist who popularized the Reptilians theory, also has a son following in his footsteps– Gareth Icke.
Recently, a theme park called Thorpe Park in Surrey, England asked that unmasked people sit in the back of a rollercoaster to reduce the risk of infection to the masked people sitting in the front. Gareth Icke compared these rollercoaster riders to civil rights pioneer Rosa Parks. Gareth and another Son of Icke, Jaymie, have also given speeches at anti-lockdown protests in the UK alongside their father. Gareth is described as a "leading light" of that movement. He writes articles for his father's website, podcasts, and is also a musician, writing conspiracy themed tunes like "Trojan Horse," though the majority of his work doesn't seem to have a conspiratorial theme.
I'm not sure how exactly to describe the Gareth Icke sound, but it reminds me of the Bible-rock anthems of anti-lockdown "Riots to Revival" missionary/ musician Sean Feucht who grabbed headlines last year for holding revival rallies during the pandemic with no social distancing and few masks in sight.
And let's not forget the man who became the most powerful conspiracy theorist of all (and maybe will be again soon if you believe the conspiracy that Trump will be back in office January 20 March 4 sometime in August).
Trump had a special Father's Day message this year: "Happy Father's Day to all, including the Radical Left, RINOs, and other Losers of the world. Hopefully, eventually, everyone will come together!" This was shared via his political action committee as he has, of course, been banned from his social media platforms.
Like father, like son– Donald Trump Jr. has a long history of promoting conspiracies like Birtherism, school shooting conspiracies, amplifying QAnon accounts, and spreading COVID-19 and "election fraud" misinformation. Politico called him "dad's ambassador to the fringe."
Most recently he and conspiracy congressional representative Lauren Boebert of Colorado dusted off a classic– the Clinton Body Count. This suggests that over the last several decades, Bill and Hillary Clinton have had dozens or even hundreds of people murdered. I like to imagine them doing the murders personally– popping out of bushes wearing ghostface masks while death metal plays, Bill choking the person while Hillary shanks them with a butcher knife– the Clinton Body Count.
In this case, Alabama news anchor Christopher Sign, who had reported on the Clintons including the story of the FBI investigating Hillary's emails, was found to have died by suicide on June 12. There is no sign of foul play, but that didn't stop Boebert and Trump Jr. from speculating that Sign was the latest victim of the Clinton Body Count.
And just think, if the Orange Menace doesn't run himself in 2024, there are many pundits who believe Junior is the heir apparent to the Trump political dynasty. Well, that is, if he's not completely overwhelmed by legal problems, along with the rest of the family.
Tea's Weird Week, season 2, episode 6: Fathers of Conspiracy: I read this column (with sound clips!) then me and Heidi Erickson discussed this column a little further along with how the Cat got Batman's tongue and what makes a real hero, as well as Spoonman, aka Uri Geller's vow to help win a football match (he didn't), a UFO sighting, a couple handcuffed together for 3 months, and more. Miss Information reveals trivia answers from the first 5 episodes this season and we close out with a track from Rum Revere's new album, "Get Up and Watch It."
Listen here: Tea's Weird Week S2 ep06: Fathers of Conspiracy (podbean.com)
Spotify//Soundcloud//Google Podcasts//iHeartRadio//PlayerFM//Apple//Stitcher//Pocket Casts
Alex Jones, David Icke, Trump, and conspiracy culture is discussed in-depth in my award-winning book American Madness: The Story of the Phantom Patriot and How Conspiracy Theories Hijacked American Consciousness.

Buy a signed copy online from Lion's Tooth: https://www.lionstoothmke.com/american_madness.html#/
Or wherever books are sold.
By Tea Krulos
In my book American Madness, I tell the story of Richard McCaslin who, after watching a documentary by Alex Jones (InfoWars), is inspired to adopt a superhero conspiracy commando persona, the Phantom Patriot, and raid a secret retreat called the Bohemian Grove. He was arrested and spent over six years in prison. Richard first contacted me when he was still on parole and we communicated his preferred way for the first year or so– good old fashioned letter writing. When I opened my second letter from Richard, I remember my eyeballs being overwhelmed because he had written out the key points of his beliefs about Reptilian aliens (you can find a scan of some pages of this letter at the end of this post). What the hell was this guy talking about?
The Reptilian theory suggests that a race of cold-blooded, shape-shifting lizard people has infiltrated the human race and that many of our world leaders are Reptilians in disguise. The father of this theory and it's major proponent is British conspiracist David Icke. After he was released from prison, Richard became a devote follower of Icke, attending one of his 9-hour long lectures and reading his hefty volumes of conspiracy rants. When Richard took his own life, he left behind a document, outlining 21 final points he wanted to make. Much of it was calling out people he felt had wronged him or our society in general, but one of the few people he mentioned in a positive light was David Icke. As I detail in a chapter of American Madness titled "Reptoid Royalty," Icke's teachings were so profound to Richard that he abandoned his religious beliefs and he began to view the world as a place overrun by Reptilians.
As details began to emerge about Anthony Quinn Warner, the suicide bomber who blew up an RV in downtown Nashville on Christmas morning, I immediately began to see things that reminded me of Richard McCaslin:
-Reptilians. Investigators found that Warner, who ran an IT service installing alarm systems, had "paranoia over 5G technology" and that "they also found writings that contained ramblings about assorted conspiracy theories, including the idea of shape-shifting reptilian creatures that appear in human form and attempt world domination." It is also reported that Warner "hunted" extra-terrestrials in a nearby state park. Imagine going for an evening walk and encountering that guy with a shotgun and a net!

-Richard and Warner were unmarried, childless, loners, but described by people who encountered them as friendly, polite, helpful. Richard had no prior criminal record. Warner only had a marijuana charge from 1978.

-Both had recently lost family and had family troubles. Richard, an only child, had lost both his parents and then had an ugly dispute with his aunts and cousins over inheritance money before his Bohemian Grove raid. Warner had lost his father in 2011 (who was an employee of BellSouth, which merged with AT&T, so there's another possible motive) and a brother and reportedly had a property dispute with his mother.

-Richard and Warner both had romantic failings. Warner had a girlfriend as of last year, who called police on him in August 2019 to tell them he was building bombs in his RV. The police subsequently told the FBI, and it appears both agencies let the threat slip by them.
-Unlike other acts of domestic terrorism, Richard and Warner didn't have the goal of killing people like the Oklahoma City bombers or a mass shooter– the body count between the two of them is zero. Richard was hoping to free victims slated to be sacrificed in a ritual (Edgar Maddison Welch, the Pizzagate believer, raided a Washington DC pizzeria with a similar intent). Warner had a loudspeaker in his RV that warned people to evacuate the area, then gave a countdown, creepily interspersed with Petula Clark's song "Downtown," where she sings about how feelings of loneliness can be cured with a visit to the heart of the city where "things will be great." His RV explosion significantly damaged an entire block of downtown Nashville and was heard for miles.
I think both Richard and Warner wanted a dramatic exit. You can read more about Richard's death in American Madness, where you'll find he was determined to send a last protest message. And Warner obviously wanted his horrifying death to be a spectacle, too. Just a few days before Christmas, a neighbor saw him at his mailbox and asked him if Santa was going to bring him anything good for Christmas.

"Oh yeah, Nashville and the world is never going to forget me," Warner replied. Days later, the shocked neighbor said he was "speechless" when he saw the new meaning to Warner's words, a man the neighbor said was "quiet" and "raised no red flags."
We don't know for sure what Warner's goal was, yet– he may have simply wanted attention by blowing himself up Christmas morning. But the fact that he parked his RV in front of an AT&T center mixed with his conspiracy beliefs makes it likely he had some kind of 5G theories. These conspiracies vary, but most say that 5G radiation causes sickness, cancer, and either causes or exacerbates COVID-19. Warner reportedly gave his car away to someone, telling them he had cancer. Maybe he blamed his exposure to 5G as an IT person? Other theories say it's being used as a mind control weapon. Here again we encounter David Icke, who has promoted these theories, including on an appearance on the show London Real, which was viewed millions of times before being pulled by most platforms. All this has led to a string of 5G tower arson caused by conspiracy theorists across Europe.
I'm sad to say that this is the type of story we're going to continue to see. Many conspiracy believers like QAnon and the followers of InfoWars are rallying and believe they are now at war with the Biden administration. We will see more Reptilian Hunters, Phantom Patriots, Wolverine Watchmen, QAnon Warriors, and election fraud conspiracy vigilantes. Conspiracy theory sounds goofy, but we're seeing the dangerous consequences of it's viral spread.
UPDATE Jan.2, 2021: Letters that Warner sent before his suicide bombing are now being received by people he knew. They are apparently filled with conspiracy, talking about 9/11, the moon landing, Reptilians, and question reality itself. Source: "Nashville bomber's bizarre writings reveal belief in aliens and lizard people," NewsChannel 5 Nashville
—
The following is three pages from the second letter I received from Richard McCaslin, dated Oct.25, 2010, in which he tries to explain the "Reptilian agenda" to me, based on the theories of David Icke. Here Richard writes "it's going to get 'weird'; but just bear with me."
My book American Madness: The Story of the Phantom Patriot and How Conspiracy Theories Hijacked American Consciousness (Feral House) is available now:
Lion's Tooth: www.lionstoothmke.com/american_madness.html#/
Quimby's: www.quimbys.com/store/9655
Bookshop.org: bookshop.org/books/american-madness-the-story-of-the-phantom-patriot-and-how-conspiracy-theories-hijacked-american-consciousness/9781627310963
Amazon: www.amazon.com/American-Madness-Conspiracy-Theories-Consciousness/dp/1627310967/
OR "WEIRD DAY?" "WEIRD HOUR?" "WEIRD TIME IS AN IRRELEVANT CONSTRUCT?" 
Well, my column title says it all. To support this theory, I'll do as a conspiracist does and string some random crazy scraps together with pieces of yarn. The COVID-19 pandemic has made people snap. Yesterday we got news that a Waukesha, Wisconsin man murdered 2 family members and the family dog (and injured 2 more) back in March (the details were just made known in court) after fears of coronavirus overtook him. In Texas, a Trump supporter named Karen posted a screed dismissing the virus as a "media driven" hoax, and that:
They are leading with fear causing you to panic like sheep…you don't need hand sanitizer, toilet paper, and Lysol. You need common sense, a sense of direction, faith, a will to fight, and of course, guns!
Well, Karen is dead. She died from COVID-19. The stories are coming in so thick and fast, this column could be re-branded as "Tea's Weird Day." Consider, for example, these stories from the last few days:
Conspiracy Theorists Are Destroying 5G Towers Because They Believe There is a 5G/Coronavirus Connection
Over the past week, conspiracy theorists have destroyed the following: a train (see last week's column: "Conspiracy Theory Trainwreck"), "at least twenty" 5G towers, and quite a few of my brain cells. The hottest conspiracy this week is that 5G Internet is linked to coronavirus. The theory is that "5G radiation" is either exacerbating coronavirus symptoms or that the symptoms are from 5G and the virus was invented as a cover story.  The theories are being spread by a coalition of conspiracy theorists– InfoWars, QAnon, Anti-vaxxers, and David Icke.
David Icke. Yeah.While wrapping up my book American Madness (out in August) I was like gee, I hope there's some conspiracy stuff going on in 2020 to talk about when the book comes out. Ha! Be careful what you wish for–the last couple months have been an American Madness reunion party– Alex Jones and QAnon have been in the news frequently, and now the sudden bump in interest in Icke. If you don't know who he is, David Icke is a British conspiracy theorist who has been ranting and raving since the 90s, churning out conspiracy books and delivering lectures, which average 9-10 hours long (that's not a typo.) He's most infamous for his theory that a race of extra-terrestrials called the Reptilians (aka "Lizard People") have infiltrated earth and disguised themselves as human world leaders.
Now, through a show called London Real, Icke has reached millions of viewers. The most recent Icke episode was removed by YouTube as the platform cracks down on coronavirus misinformation (as you'll see in American Madness, YouTube is often too little, too late on these policies.) The YouTube ban has only given Icke more street cred. Across the UK about twenty 5G towers have been burned or otherwise destroyed or damaged, most recently in Belfast, Liverpool, and Birmingham. Some of the towers were actually 3 or 4G towers. There is a growing call on the Internet for people to destroy more.  Tech engineers are being threatened on the street. Obviously, the spread of this idea has dangerous implications– communication systems are being targeted during a pandemic.
What's even more disappointing is that several celebrities have helped entertain and spread the misinformation, including John Cusack, Woody Harrelson, M.I.A., and others (though some have since deleted their posts). I think this is a great place to note that we all want to envision someone spreading conspiracy as an obnoxious Alt-Right bloviating gas bag like Alex Jones, screaming and pounding his fist about chemicals in the water "turnin the frickin' frogs gay!" or saying that Hillary Clinton is a literal demon, but that's not always what it looks like. Sometimes it'll be someone you admire or a friend. Just be aware of that, especially if they ask you to…
Holy Moley! Pray for the Mole Children
When I first started my book, I always thought I might find the bottom of the rabbithole, the craziest conspiracy of all. The Bohemian Grove? Reptilians? Flat Earth? Birds Aren't Real? Nah, keep falling. But QAnon's latest theory has got to be a contender– that coronavirus is actually a cover up to rescue the mole children. Yes, won't someone think of the mole children?
Here's the theory: QAnon says that there are thousands of "mole children" living in tunnels underneath Central Park. As Wonkette reports on the theory:
They have, of course, been bred for the specific purpose of being sex slaves, but also for being eaten and having their adrenal glands harvested so "elites" can get high on their adrenochrome. Which, for the 47,000th time, is not a thing anyone can get high off of.
The coronavirus emergency center set up in Central Park, they say, is to treat the mole children, some of whom are deformed or sensitive to light from living in the tunnels. Rescued children are then moved to hospital ships like the Comfort in New York and Mercy in LA (which was also the target of the guy who derailed the train there last week.)
Do people actually believe this? Yes. Are they praying for the Mole Children? You bet. Are they writing goddamn poetry about them? Hell yes.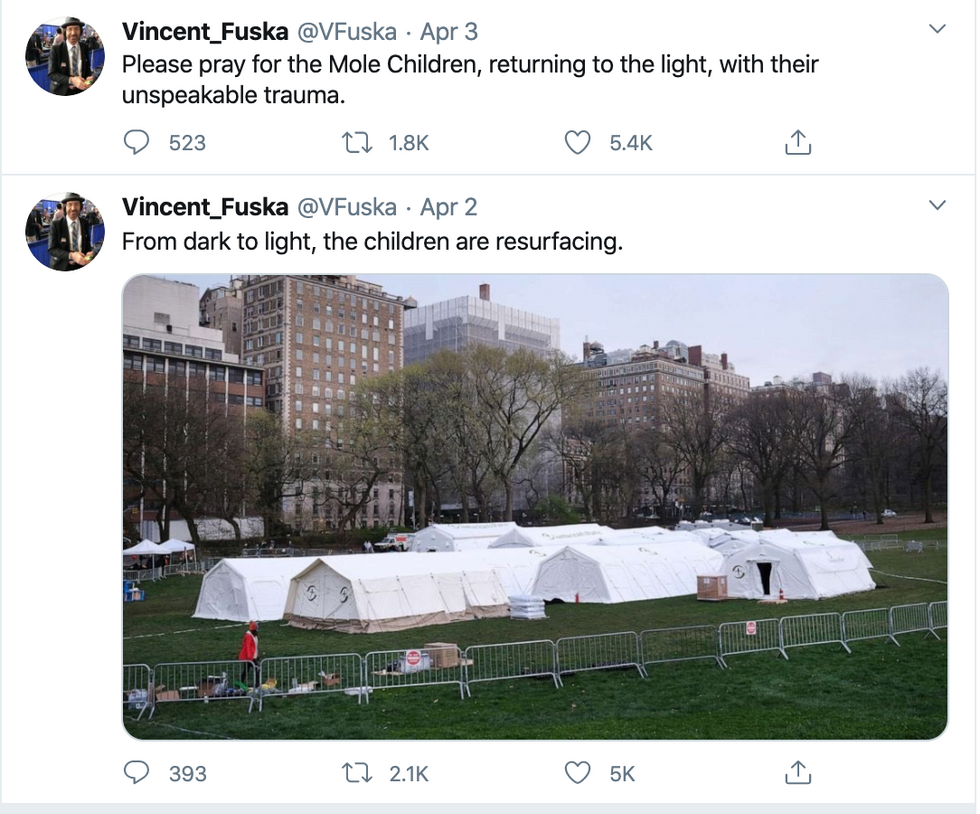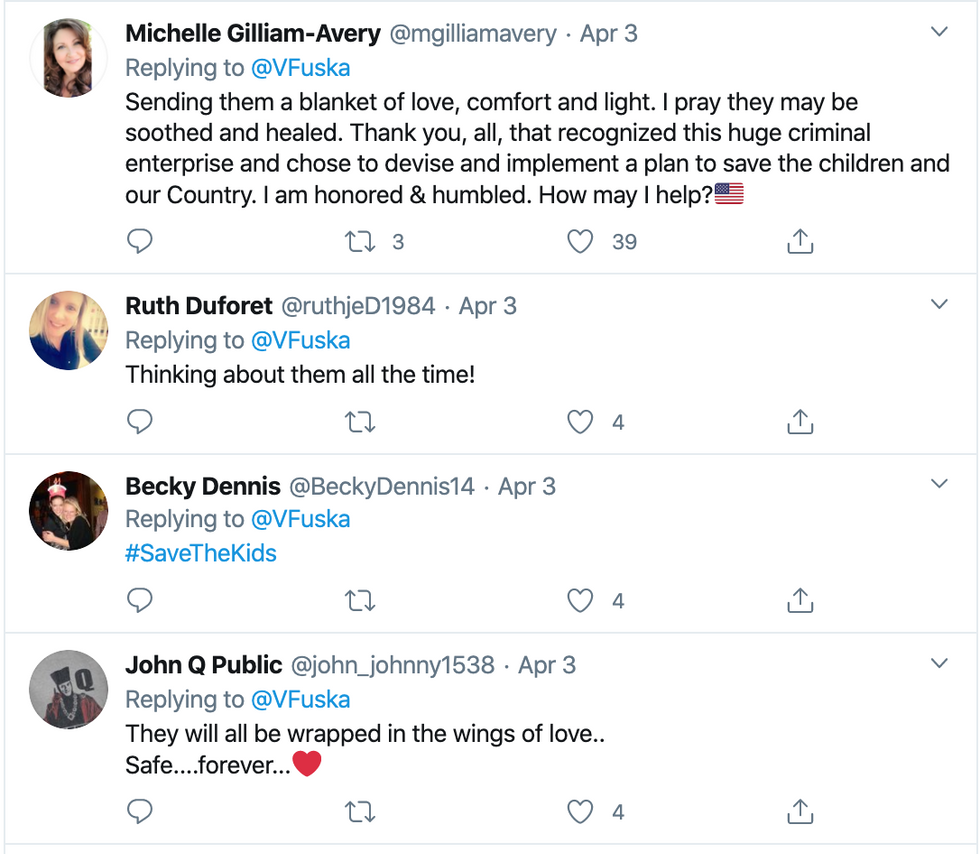 Read more: "QAnon Idiots Very Concerned About Mole Children Now," wonkette.com
One of Wisconsin's Darkest Days 
On a personal note, Tuesday was an extremely fucked day in Milwaukee, the city I love. It was a batshit, terrible, dystopian day. We have a stay-at-home edict, Summerfest and the Democratic National Convention were both postponed, but the election was ordered to go on here. Not only that, but the usual 180 plus polling locations were reduced to 5 for the entire city of Milwaukee, population of about 600,000. Waukesha, a suburb of 70,000, had 1 open. Thousands of absentee ballots were requested but never arrived. Lines to vote stretched on for blocks of brave voters who had to choose– risk their health or vote. Trump's words on the situation: "not my problem." These games being played with people's lives have left me sad and angry.
The next day, Bernie Sanders dropped out. Let's ask the important questions here, like the 5 Ws (no, not the 5Gs, settle down) which are: Who, What, Where, When, and of course:
Ok! Excuse me now while I dunk my head in cold water and try to get through the rest of this week. Best wishes to all of you out there in this crazy world.

My upcoming book American Madness features a journey through conspiracy culture. It's out August 25, 2020 from Feral House. To pre-order: CLICK HERE
It's on Goodreads here: https://www.goodreads.com/book/show/52486773-american-madness
Follow me on:
Facebook//Twitter//Instagram//YouTube
"Having just returned from the grocery store during an official pandemic, I'm reminded to highly recommend Apocalypse Any Day Now, from Tea Krulos, who went way down the doomsday prepper rabbit hole. Fun and unfortunately highly relevant. Do it." — Brent Gohde, Cedar Block/ Science Strikes Back
Every Saturday during quarantine, I'm hosting online trivia via Facebook Live: