Blog Archives
In this age of QAnon, we've seen the most outlandish conspiracies spread on the Internet. Just to mention a few– "mole children" being held captive underneath Central Park, prisoners of the "Deep State" to be used in sex trafficking and to harvest their "adrenochrome" by the same sinister cabal that brought you Pizzagate. There was also the theory that Wayfair was delivering child sex slaves in their furniture. On March 4, the "real inauguration" of Trump was supposed to take place. Recently, there's been a conspiracy that Joe Biden is either a deepfake or is just pretending to be president in front of a greenscreen.
And now the news of the day– a cargo ship getting stuck sideways in the Suez Canal is the latest to have a thumbtack and long piece of yard attached to it. This theory stars QAnon's ultimate boss bad guy Hillary Clinton.
The first and longest running conspiracy involving Hill and Bill is the "Clinton Body Count." I love the title of that conspiracy because I imaging the Clintons sneaking around as a couple, killing people in person. Bill sneaks up behind someone and chokes them with his tie while Hillary whips out a shank and starts stabbing, all while some grindcore shreds in the background. Brutal!
But seriously, the theory suggests that a great number of people somehow associated with the Clintons have been killed by Clinton bankrolled hitmen. It's like a death version of "Six degrees of Kevin Bacon"– anyone you can tie to the Clintons who has died is said to be part of the hit list.
Pizzagate was the next step of adding to the Clinton conspiracy mythology. Hillary and her people (most notably John Podesta, who was a member of Bill's cabinet and campaign advisor to Hillary–leaked emails showing his love of pizza parties was the centerpiece of Pizzagate) were said to be the masterminds of a child sex trafficking ring operating in DC, a satanic cabal of Democrats, Hollywood elites, the fake news media, etc. that rape and eat children and get high off of their "adrenochrome."
The darkest place these conspiracies go is a hoax called "frazzledrip." This is supposedly the name of a snuff video that shows Hillary and her advisor Huma Abedin torturing, raping, and drinking the blood of a young girl to get high on her adrenochrome. It was supposedly leaked from the laptop of Abedin's ex-husband Anthony Wiener, but the video does not exist on the dark web or anywhere else.
The latest QAnon nonsense suggests that this ship that was stuck in the Suez Canal is Hillary Clinton's personal sex trafficking vehicle. That's right, those shipping containers are filled with children heading to a Pizzagate-style ring. That's a big claim. What's the evidence? Well…

– The ship, the Ever Given, is owned by a Taiwanese company called Evergreen. Clinton was given the Secret Service code name "Evergreen" (Bill's was "Eagle").

-The Ever Given's radio call sign is H3RC, uh oh that means Hillary Rodham Clinton.

-What's on the boat? Shipping containers that QAnon says are full of sex trafficking victims. And maybe a lot– the ship holds up to 20,000 20 foot long containers.
-The ship's charted course allegedly shows that it drew a dick in the Red Sea. To what end? The Qanon theory was to draw attention to the ship. As Vice reports, one Q follower posted:

"Those ships are on auto-pilot most of the time. The computers do the work. I am suggesting that the ship's computers were hacked. My suspicions lean toward the White Hats. This was part of the plan."
QAnon believed that the ship had purposely been grounded so the world could see the shipping containers being opened, the sex trafficking victims released and Hillary Clinton exposed for the satanic pedophile cannibal/ shipping magnate that she was. That, of course, didn't happen.
Why would someone who is running a human trafficking ring leave clues as to their identity behind? Do people actually believe this shit? They sure do, and it's led to a social epidemic of unhinged violence.
The biggest incident was the Jan. 6 insurrection, which had a large contingency of QAnon believers. But there's been a few examples over the last month. On March 15, a man drove a car covered with spray-painted Q slogans (like "wwg1wga" which means "where we go one, we go all.") to a National Guard.
And here's the latest person to snap from conspiracy– a person named Benjamin Orion Carlson Kohlman went on an early morning rampage earlier on March 30, setting three Vancouver area masonic lodges on fire. The Freemasons have long been a part of conspiracy lore as a secret organization that controls the world. He escaped an altercation with a police officer and posted on his social media that he had "just cleaned three satanic clubhouses and nobody could do anything," there was no QAnon connection reported, but other posts promoted 9/11 and Flat Earth conspiracies, and a post from 2018 showed an image of a masonic hall with text that read "Masons meet secretly to plan the truth they want you to see." Source: CTV News
Conspiracy continues to beget violence.
SEE ALSO: The new HBO documentary Q: Into the Storm documents the origins of QAnon and how it evolved from a dark corner of the Internet to the mainstream.
In the opening sequence of Q: Into the Storm, the documentary maker talks about not being able to see an owl without thinking about Moloch; if you want to know the origins of all that, as well an intro to QAnon and many examples of how conspiracy thinking is dangerous, please do check out my book American Madness: The Story of the Phantom Patriot and How Conspiracy Theories Hijacked American Consciousness. You'll find similarities– arson, Freemasons– to this latest story out of Vancouver.
Tea's Weird Week, episode 12: I talk more about this column and the future of this podcast in the "Please Clap Dept." Me and Heidi talk about a zombie rabies strain (plus the zombie-vampire political study), a plague doctor stalking Scotland, the saga of Salmon Dream, the worst T-shirt ever, and a sewer mystery. Plus trivia with Miss Information, and we close out with a track from our sound engineer, Android138, "The Dreams that we Dare to Dream."
You can listen here: Tea's Weird Week episode 12: Conspiracy on the Suez Canal (podbean.com)
Spotify//Soundcloud//Google Podcasts//iHeartRadio//PlayerFM//Apple//Stitcher//Pocket Casts
Check out my latest books:
American Madness
Tea's Weird Week: 2020 Review (ebook)
OR "WEIRD DAY?" "WEIRD HOUR?" "WEIRD TIME IS AN IRRELEVANT CONSTRUCT?" 
Well, my column title says it all. To support this theory, I'll do as a conspiracist does and string some random crazy scraps together with pieces of yarn. The COVID-19 pandemic has made people snap. Yesterday we got news that a Waukesha, Wisconsin man murdered 2 family members and the family dog (and injured 2 more) back in March (the details were just made known in court) after fears of coronavirus overtook him. In Texas, a Trump supporter named Karen posted a screed dismissing the virus as a "media driven" hoax, and that:
They are leading with fear causing you to panic like sheep…you don't need hand sanitizer, toilet paper, and Lysol. You need common sense, a sense of direction, faith, a will to fight, and of course, guns!
Well, Karen is dead. She died from COVID-19. The stories are coming in so thick and fast, this column could be re-branded as "Tea's Weird Day." Consider, for example, these stories from the last few days:
Conspiracy Theorists Are Destroying 5G Towers Because They Believe There is a 5G/Coronavirus Connection
Over the past week, conspiracy theorists have destroyed the following: a train (see last week's column: "Conspiracy Theory Trainwreck"), "at least twenty" 5G towers, and quite a few of my brain cells. The hottest conspiracy this week is that 5G Internet is linked to coronavirus. The theory is that "5G radiation" is either exacerbating coronavirus symptoms or that the symptoms are from 5G and the virus was invented as a cover story.  The theories are being spread by a coalition of conspiracy theorists– InfoWars, QAnon, Anti-vaxxers, and David Icke.
David Icke. Yeah.While wrapping up my book American Madness (out in August) I was like gee, I hope there's some conspiracy stuff going on in 2020 to talk about when the book comes out. Ha! Be careful what you wish for–the last couple months have been an American Madness reunion party– Alex Jones and QAnon have been in the news frequently, and now the sudden bump in interest in Icke. If you don't know who he is, David Icke is a British conspiracy theorist who has been ranting and raving since the 90s, churning out conspiracy books and delivering lectures, which average 9-10 hours long (that's not a typo.) He's most infamous for his theory that a race of extra-terrestrials called the Reptilians (aka "Lizard People") have infiltrated earth and disguised themselves as human world leaders.
Now, through a show called London Real, Icke has reached millions of viewers. The most recent Icke episode was removed by YouTube as the platform cracks down on coronavirus misinformation (as you'll see in American Madness, YouTube is often too little, too late on these policies.) The YouTube ban has only given Icke more street cred. Across the UK about twenty 5G towers have been burned or otherwise destroyed or damaged, most recently in Belfast, Liverpool, and Birmingham. Some of the towers were actually 3 or 4G towers. There is a growing call on the Internet for people to destroy more.  Tech engineers are being threatened on the street. Obviously, the spread of this idea has dangerous implications– communication systems are being targeted during a pandemic.
What's even more disappointing is that several celebrities have helped entertain and spread the misinformation, including John Cusack, Woody Harrelson, M.I.A., and others (though some have since deleted their posts). I think this is a great place to note that we all want to envision someone spreading conspiracy as an obnoxious Alt-Right bloviating gas bag like Alex Jones, screaming and pounding his fist about chemicals in the water "turnin the frickin' frogs gay!" or saying that Hillary Clinton is a literal demon, but that's not always what it looks like. Sometimes it'll be someone you admire or a friend. Just be aware of that, especially if they ask you to…
Holy Moley! Pray for the Mole Children
When I first started my book, I always thought I might find the bottom of the rabbithole, the craziest conspiracy of all. The Bohemian Grove? Reptilians? Flat Earth? Birds Aren't Real? Nah, keep falling. But QAnon's latest theory has got to be a contender– that coronavirus is actually a cover up to rescue the mole children. Yes, won't someone think of the mole children?
Here's the theory: QAnon says that there are thousands of "mole children" living in tunnels underneath Central Park. As Wonkette reports on the theory:
They have, of course, been bred for the specific purpose of being sex slaves, but also for being eaten and having their adrenal glands harvested so "elites" can get high on their adrenochrome. Which, for the 47,000th time, is not a thing anyone can get high off of.
The coronavirus emergency center set up in Central Park, they say, is to treat the mole children, some of whom are deformed or sensitive to light from living in the tunnels. Rescued children are then moved to hospital ships like the Comfort in New York and Mercy in LA (which was also the target of the guy who derailed the train there last week.)
Do people actually believe this? Yes. Are they praying for the Mole Children? You bet. Are they writing goddamn poetry about them? Hell yes.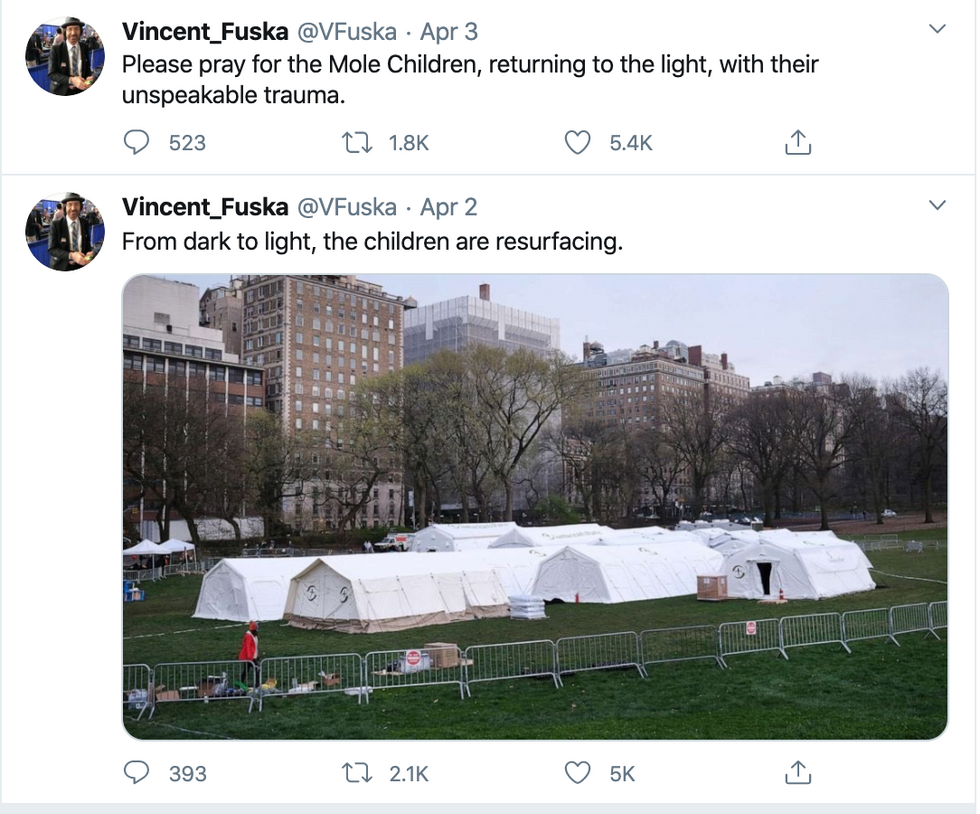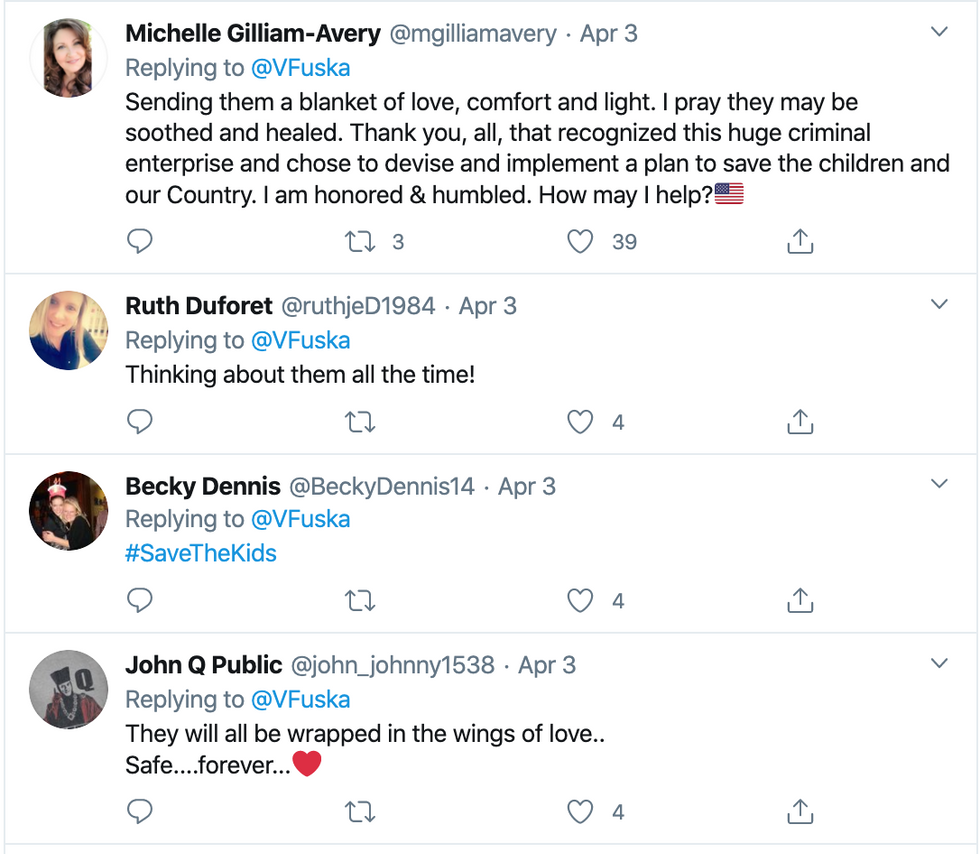 Read more: "QAnon Idiots Very Concerned About Mole Children Now," wonkette.com
One of Wisconsin's Darkest Days 
On a personal note, Tuesday was an extremely fucked day in Milwaukee, the city I love. It was a batshit, terrible, dystopian day. We have a stay-at-home edict, Summerfest and the Democratic National Convention were both postponed, but the election was ordered to go on here. Not only that, but the usual 180 plus polling locations were reduced to 5 for the entire city of Milwaukee, population of about 600,000. Waukesha, a suburb of 70,000, had 1 open. Thousands of absentee ballots were requested but never arrived. Lines to vote stretched on for blocks of brave voters who had to choose– risk their health or vote. Trump's words on the situation: "not my problem." These games being played with people's lives have left me sad and angry.
The next day, Bernie Sanders dropped out. Let's ask the important questions here, like the 5 Ws (no, not the 5Gs, settle down) which are: Who, What, Where, When, and of course:
Ok! Excuse me now while I dunk my head in cold water and try to get through the rest of this week. Best wishes to all of you out there in this crazy world.

My upcoming book American Madness features a journey through conspiracy culture. It's out August 25, 2020 from Feral House. To pre-order: CLICK HERE
It's on Goodreads here: https://www.goodreads.com/book/show/52486773-american-madness
Follow me on:
Facebook//Twitter//Instagram//YouTube
"Having just returned from the grocery store during an official pandemic, I'm reminded to highly recommend Apocalypse Any Day Now, from Tea Krulos, who went way down the doomsday prepper rabbit hole. Fun and unfortunately highly relevant. Do it." — Brent Gohde, Cedar Block/ Science Strikes Back
Every Saturday during quarantine, I'm hosting online trivia via Facebook Live: