Blog Archives
I wrote a column here titled "Laughing My Ass Off at These Bonkers Trump Paintings," in which I showed some works by Jon McNaughton, a painter who depicts scenes of Dear Leader literally teaching a man to fish, literally running a football down a field, and speaking to the press who are literally clowns. I shared these and cracked a bunch of jokes. You got to understand that this was back in a simpler, carefree time….February 27.
One painting in particular had me ROFLMAO. Take a look at the people aboard the S.S. Trump in "Crossing the Swamp" and see if it jumps out at you.

That's right, about half the crew is now gone: besides Nikki Haley  and Sarah Sanders, you have 4 former administration members who were fired/ forced to resign because they butted heads with Trump. Good-bye to James "Mad Dog" Mattis, Jeff Sessions, John Bolton, and John Kelly (and take your duck hunting costumes with you).
Here's the point– if you anger Trump by disagreeing with him, you're gone. His ego is more important than your job. His ego is more important than your life.
Let's talk about QAnon for a moment. If you're not at all familiar, I've ended up writing about them a lot this year– too much. QAnon believes that a mystery figure known as "Q" is giving them information that President Trump has a secret plan to defeat the "Deep State" of Democrats, intelligence agencies, Hollywood, the Fake News media, etc. This cabal of evil are all participating in a satanic pedophile sex trafficking/ cannibalism ring that gets high off eating human adrenal glands. It is cult-like in it's adoration of Trump and it's willingness to believe crazy shit. See last week's column for their theory that the Deep State has been keeping "mole children" hidden in tunnels underneath Central Park. No, I'm not shitting you: Click Here and Pray for the Mole Children.
When I first learned about Q, I thought it was a goofy, ridiculous thing that would burn out and disappear after their early predictions that "Crooked Hillary" and company would be rounded up and sent to Guantanamo Bay failed to pan out. Instead they've grown and become way more dangerous than a group of kooks on a message board.
When I started the #TrumpConspiracyCounter on January 1 (trying to catalog all times Trumps promotes or retweets a conspiracy or known conspiracy theorist) I was surprised to see how many times he retweeted a QAnon supporter. He continues to do it on a regular basis. This is the President of the United States sharing these fanatics to his audience of millions. Doesn't he have people to advise him not to do this? But then again, we wouldn't expect an egotist like Trump to speak against a cult that worships him, no matter how wrong they may be.
Here's why you should be concerned about QAnon: their ideas likely inspired a man to derail a train and crash it into a hospital ship in Los Angeles; QAnon are among the conspiracists spreading theories about 5G internet that has led to cell towers being burned across the UK; and there are around two dozen Q believers running for Congress.
Trump went on a tweet binge last week, retweeting three QAnon followers (most of them tipped off they were Q-balls by having hashtags #Q and #wwg1wga which is the QAnon mantra "where we go one, we go all" right in their Twitter bio).
Then, after Dr. Fauci of his Coronavirus Task Force dared to contradict him by saying more could have be done sooner, Trump retweeted Deanne Lorraine, one of the aforementioned QAnon members who was running for Congress and a regular on InfoWars. Lorraine was running against Nancy Pelosi, but suspended her campaign after receiving less than 2% in the primary (let's hope the rest of the campaigns fizzle out, too). Lorraine's post, which Trump retweeted on Easter, admonished Fauci for disagreeing with Trump and included the hashtag #FireFauci. QAnon has identified Dr. Fauci as their latest enemy, someone viewed by them as trying to discredit and undermine Trump and have nicknamed him "Dr. FearPorn" as they believe he is trying to inflate the pandemic as a cover up for some nefarious scheme.
So, choose your fighter: one of the world's leading immunologists or a group of people who believe mole children are being harvested for sex and adrenal glands under Central Park.
Is Trump going to have a tantrum and fire Dr. Fauci because the doctor speaks truth instead of Trump talking points? Right now any terrible thing is possible. Be well, people.
Please Clap Dept.: My book Apocalypse Any Day Now came out last year but is being marketed as quarantine reading. Here's a Q and A I did about it this week: https://www.ipgbook.com/blog/publicity-spotlight-apocalypse-any-day-now/

My upcoming book American Madness features a journey through conspiracy culture. It's out August 25, 2020 from Feral House. To pre-order: CLICK HERE
It's on Goodreads here: https://www.goodreads.com/book/show/52486773-american-madness
Follow me on:
Facebook//Twitter//Instagram//YouTube
"Having just returned from the grocery store during an official pandemic, I'm reminded to highly recommend Apocalypse Any Day Now, from Tea Krulos, who went way down the doomsday prepper rabbit hole. Fun and unfortunately highly relevant. Do it." — Brent Gohde, Cedar Block/ Science Strikes Back
Every Saturday during quarantine, I'm hosting online trivia via Facebook Live:
OR "WEIRD DAY?" "WEIRD HOUR?" "WEIRD TIME IS AN IRRELEVANT CONSTRUCT?" 
Well, my column title says it all. To support this theory, I'll do as a conspiracist does and string some random crazy scraps together with pieces of yarn. The COVID-19 pandemic has made people snap. Yesterday we got news that a Waukesha, Wisconsin man murdered 2 family members and the family dog (and injured 2 more) back in March (the details were just made known in court) after fears of coronavirus overtook him. In Texas, a Trump supporter named Karen posted a screed dismissing the virus as a "media driven" hoax, and that:
They are leading with fear causing you to panic like sheep…you don't need hand sanitizer, toilet paper, and Lysol. You need common sense, a sense of direction, faith, a will to fight, and of course, guns!
Well, Karen is dead. She died from COVID-19. The stories are coming in so thick and fast, this column could be re-branded as "Tea's Weird Day." Consider, for example, these stories from the last few days:
Conspiracy Theorists Are Destroying 5G Towers Because They Believe There is a 5G/Coronavirus Connection
Over the past week, conspiracy theorists have destroyed the following: a train (see last week's column: "Conspiracy Theory Trainwreck"), "at least twenty" 5G towers, and quite a few of my brain cells. The hottest conspiracy this week is that 5G Internet is linked to coronavirus. The theory is that "5G radiation" is either exacerbating coronavirus symptoms or that the symptoms are from 5G and the virus was invented as a cover story.  The theories are being spread by a coalition of conspiracy theorists– InfoWars, QAnon, Anti-vaxxers, and David Icke.
David Icke. Yeah.While wrapping up my book American Madness (out in August) I was like gee, I hope there's some conspiracy stuff going on in 2020 to talk about when the book comes out. Ha! Be careful what you wish for–the last couple months have been an American Madness reunion party– Alex Jones and QAnon have been in the news frequently, and now the sudden bump in interest in Icke. If you don't know who he is, David Icke is a British conspiracy theorist who has been ranting and raving since the 90s, churning out conspiracy books and delivering lectures, which average 9-10 hours long (that's not a typo.) He's most infamous for his theory that a race of extra-terrestrials called the Reptilians (aka "Lizard People") have infiltrated earth and disguised themselves as human world leaders.
Now, through a show called London Real, Icke has reached millions of viewers. The most recent Icke episode was removed by YouTube as the platform cracks down on coronavirus misinformation (as you'll see in American Madness, YouTube is often too little, too late on these policies.) The YouTube ban has only given Icke more street cred. Across the UK about twenty 5G towers have been burned or otherwise destroyed or damaged, most recently in Belfast, Liverpool, and Birmingham. Some of the towers were actually 3 or 4G towers. There is a growing call on the Internet for people to destroy more.  Tech engineers are being threatened on the street. Obviously, the spread of this idea has dangerous implications– communication systems are being targeted during a pandemic.
What's even more disappointing is that several celebrities have helped entertain and spread the misinformation, including John Cusack, Woody Harrelson, M.I.A., and others (though some have since deleted their posts). I think this is a great place to note that we all want to envision someone spreading conspiracy as an obnoxious Alt-Right bloviating gas bag like Alex Jones, screaming and pounding his fist about chemicals in the water "turnin the frickin' frogs gay!" or saying that Hillary Clinton is a literal demon, but that's not always what it looks like. Sometimes it'll be someone you admire or a friend. Just be aware of that, especially if they ask you to…
Holy Moley! Pray for the Mole Children
When I first started my book, I always thought I might find the bottom of the rabbithole, the craziest conspiracy of all. The Bohemian Grove? Reptilians? Flat Earth? Birds Aren't Real? Nah, keep falling. But QAnon's latest theory has got to be a contender– that coronavirus is actually a cover up to rescue the mole children. Yes, won't someone think of the mole children?
Here's the theory: QAnon says that there are thousands of "mole children" living in tunnels underneath Central Park. As Wonkette reports on the theory:
They have, of course, been bred for the specific purpose of being sex slaves, but also for being eaten and having their adrenal glands harvested so "elites" can get high on their adrenochrome. Which, for the 47,000th time, is not a thing anyone can get high off of.
The coronavirus emergency center set up in Central Park, they say, is to treat the mole children, some of whom are deformed or sensitive to light from living in the tunnels. Rescued children are then moved to hospital ships like the Comfort in New York and Mercy in LA (which was also the target of the guy who derailed the train there last week.)
Do people actually believe this? Yes. Are they praying for the Mole Children? You bet. Are they writing goddamn poetry about them? Hell yes.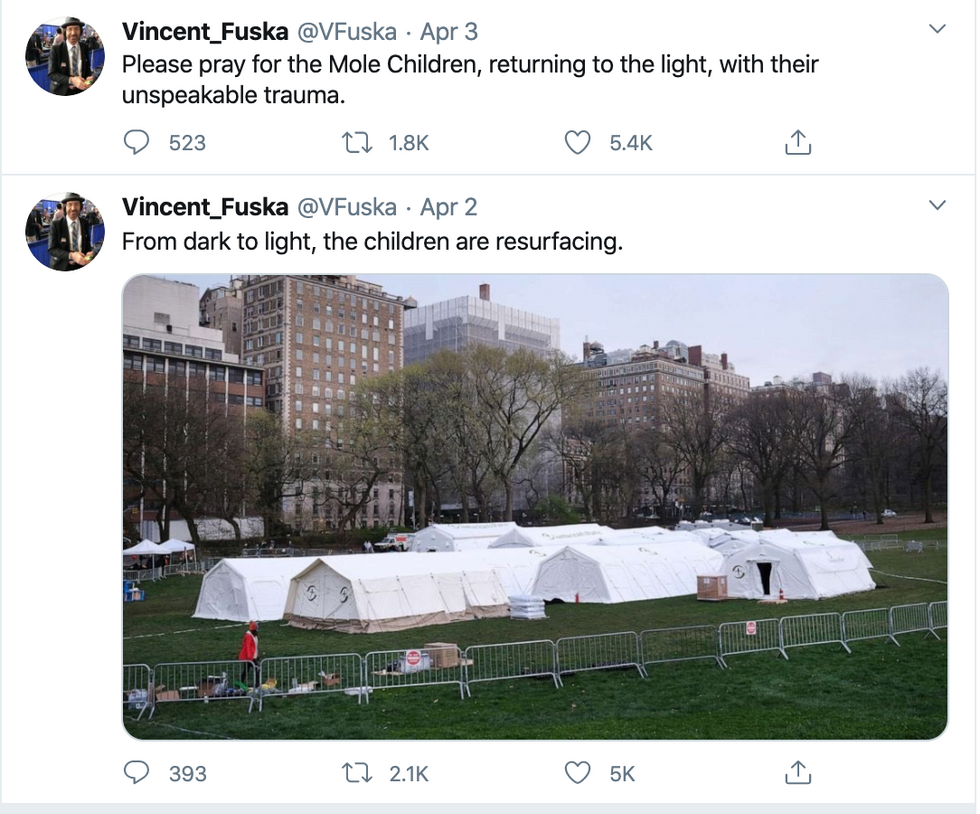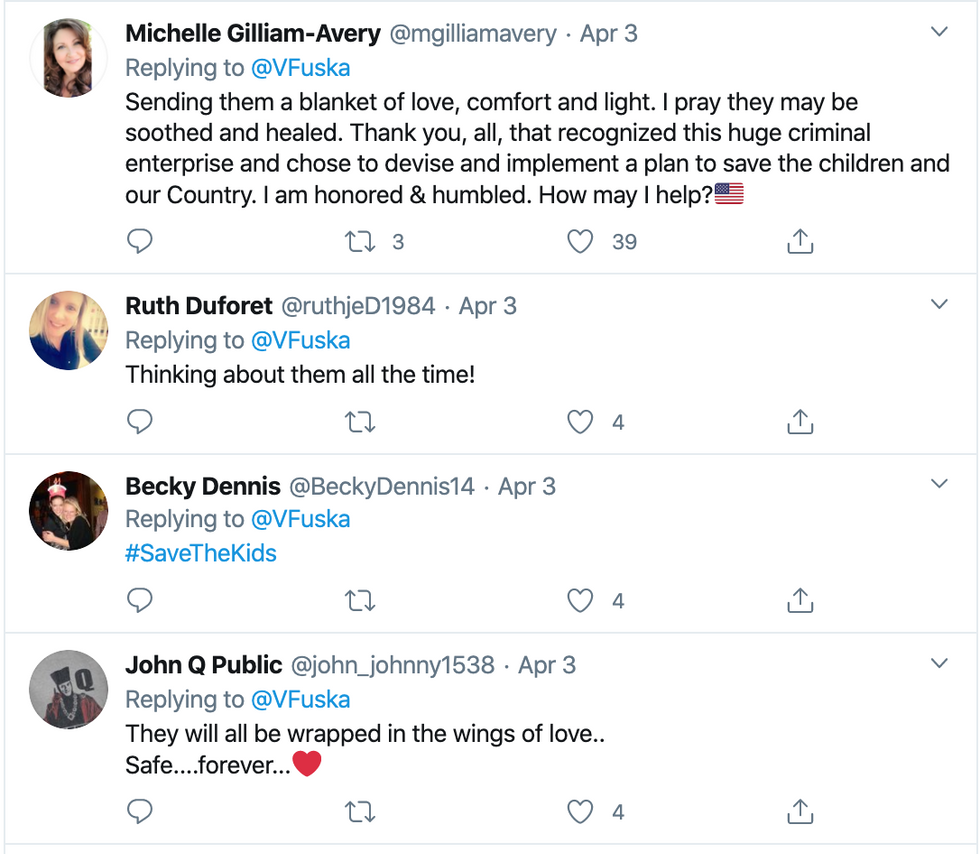 Read more: "QAnon Idiots Very Concerned About Mole Children Now," wonkette.com
One of Wisconsin's Darkest Days 
On a personal note, Tuesday was an extremely fucked day in Milwaukee, the city I love. It was a batshit, terrible, dystopian day. We have a stay-at-home edict, Summerfest and the Democratic National Convention were both postponed, but the election was ordered to go on here. Not only that, but the usual 180 plus polling locations were reduced to 5 for the entire city of Milwaukee, population of about 600,000. Waukesha, a suburb of 70,000, had 1 open. Thousands of absentee ballots were requested but never arrived. Lines to vote stretched on for blocks of brave voters who had to choose– risk their health or vote. Trump's words on the situation: "not my problem." These games being played with people's lives have left me sad and angry.
The next day, Bernie Sanders dropped out. Let's ask the important questions here, like the 5 Ws (no, not the 5Gs, settle down) which are: Who, What, Where, When, and of course:
Ok! Excuse me now while I dunk my head in cold water and try to get through the rest of this week. Best wishes to all of you out there in this crazy world.

My upcoming book American Madness features a journey through conspiracy culture. It's out August 25, 2020 from Feral House. To pre-order: CLICK HERE
It's on Goodreads here: https://www.goodreads.com/book/show/52486773-american-madness
Follow me on:
Facebook//Twitter//Instagram//YouTube
"Having just returned from the grocery store during an official pandemic, I'm reminded to highly recommend Apocalypse Any Day Now, from Tea Krulos, who went way down the doomsday prepper rabbit hole. Fun and unfortunately highly relevant. Do it." — Brent Gohde, Cedar Block/ Science Strikes Back
Every Saturday during quarantine, I'm hosting online trivia via Facebook Live: