Blog Archives
OR "WEIRD DAY?" "WEIRD HOUR?" "WEIRD TIME IS AN IRRELEVANT CONSTRUCT?" 
Well, my column title says it all. To support this theory, I'll do as a conspiracist does and string some random crazy scraps together with pieces of yarn. The COVID-19 pandemic has made people snap. Yesterday we got news that a Waukesha, Wisconsin man murdered 2 family members and the family dog (and injured 2 more) back in March (the details were just made known in court) after fears of coronavirus overtook him. In Texas, a Trump supporter named Karen posted a screed dismissing the virus as a "media driven" hoax, and that:
They are leading with fear causing you to panic like sheep…you don't need hand sanitizer, toilet paper, and Lysol. You need common sense, a sense of direction, faith, a will to fight, and of course, guns!
Well, Karen is dead. She died from COVID-19. The stories are coming in so thick and fast, this column could be re-branded as "Tea's Weird Day." Consider, for example, these stories from the last few days:
Conspiracy Theorists Are Destroying 5G Towers Because They Believe There is a 5G/Coronavirus Connection
Over the past week, conspiracy theorists have destroyed the following: a train (see last week's column: "Conspiracy Theory Trainwreck"), "at least twenty" 5G towers, and quite a few of my brain cells. The hottest conspiracy this week is that 5G Internet is linked to coronavirus. The theory is that "5G radiation" is either exacerbating coronavirus symptoms or that the symptoms are from 5G and the virus was invented as a cover story.  The theories are being spread by a coalition of conspiracy theorists– InfoWars, QAnon, Anti-vaxxers, and David Icke.
David Icke. Yeah.While wrapping up my book American Madness (out in August) I was like gee, I hope there's some conspiracy stuff going on in 2020 to talk about when the book comes out. Ha! Be careful what you wish for–the last couple months have been an American Madness reunion party– Alex Jones and QAnon have been in the news frequently, and now the sudden bump in interest in Icke. If you don't know who he is, David Icke is a British conspiracy theorist who has been ranting and raving since the 90s, churning out conspiracy books and delivering lectures, which average 9-10 hours long (that's not a typo.) He's most infamous for his theory that a race of extra-terrestrials called the Reptilians (aka "Lizard People") have infiltrated earth and disguised themselves as human world leaders.
Now, through a show called London Real, Icke has reached millions of viewers. The most recent Icke episode was removed by YouTube as the platform cracks down on coronavirus misinformation (as you'll see in American Madness, YouTube is often too little, too late on these policies.) The YouTube ban has only given Icke more street cred. Across the UK about twenty 5G towers have been burned or otherwise destroyed or damaged, most recently in Belfast, Liverpool, and Birmingham. Some of the towers were actually 3 or 4G towers. There is a growing call on the Internet for people to destroy more.  Tech engineers are being threatened on the street. Obviously, the spread of this idea has dangerous implications– communication systems are being targeted during a pandemic.
What's even more disappointing is that several celebrities have helped entertain and spread the misinformation, including John Cusack, Woody Harrelson, M.I.A., and others (though some have since deleted their posts). I think this is a great place to note that we all want to envision someone spreading conspiracy as an obnoxious Alt-Right bloviating gas bag like Alex Jones, screaming and pounding his fist about chemicals in the water "turnin the frickin' frogs gay!" or saying that Hillary Clinton is a literal demon, but that's not always what it looks like. Sometimes it'll be someone you admire or a friend. Just be aware of that, especially if they ask you to…
Holy Moley! Pray for the Mole Children
When I first started my book, I always thought I might find the bottom of the rabbithole, the craziest conspiracy of all. The Bohemian Grove? Reptilians? Flat Earth? Birds Aren't Real? Nah, keep falling. But QAnon's latest theory has got to be a contender– that coronavirus is actually a cover up to rescue the mole children. Yes, won't someone think of the mole children?
Here's the theory: QAnon says that there are thousands of "mole children" living in tunnels underneath Central Park. As Wonkette reports on the theory:
They have, of course, been bred for the specific purpose of being sex slaves, but also for being eaten and having their adrenal glands harvested so "elites" can get high on their adrenochrome. Which, for the 47,000th time, is not a thing anyone can get high off of.
The coronavirus emergency center set up in Central Park, they say, is to treat the mole children, some of whom are deformed or sensitive to light from living in the tunnels. Rescued children are then moved to hospital ships like the Comfort in New York and Mercy in LA (which was also the target of the guy who derailed the train there last week.)
Do people actually believe this? Yes. Are they praying for the Mole Children? You bet. Are they writing goddamn poetry about them? Hell yes.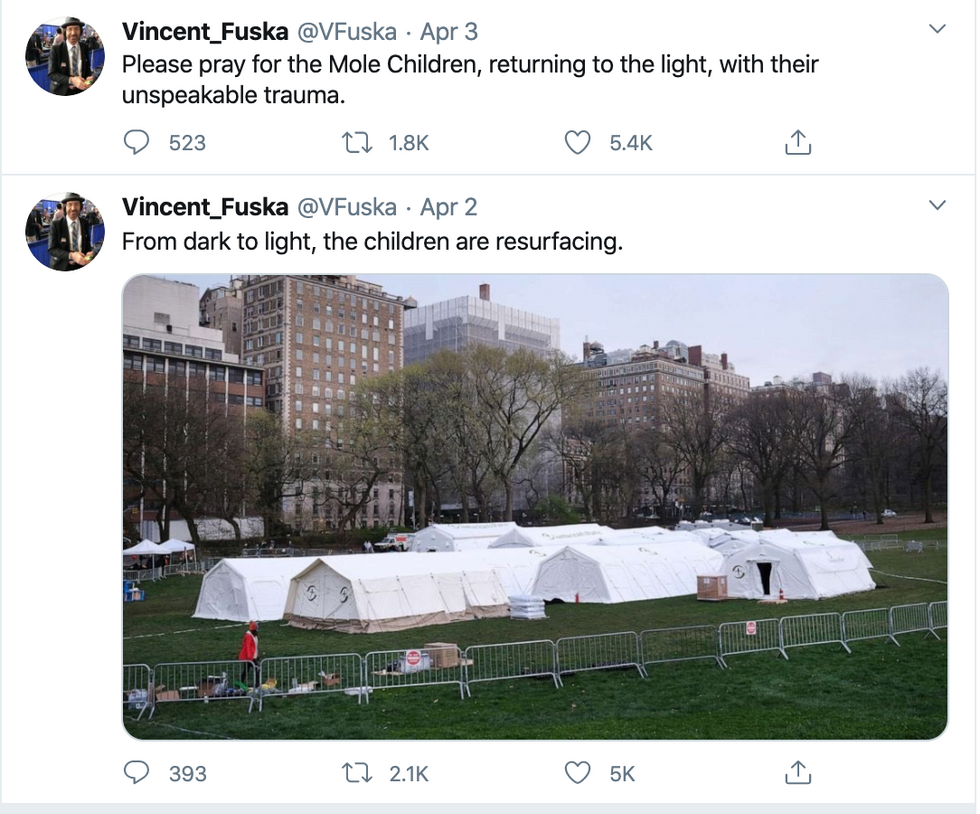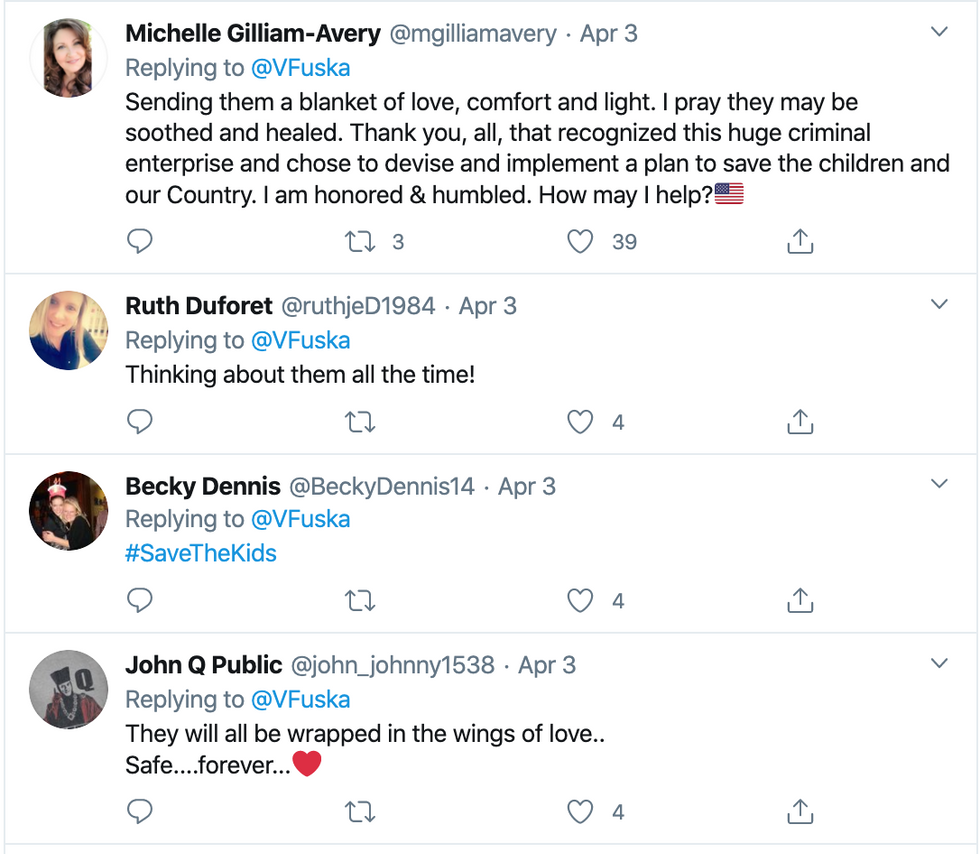 Read more: "QAnon Idiots Very Concerned About Mole Children Now," wonkette.com
One of Wisconsin's Darkest Days 
On a personal note, Tuesday was an extremely fucked day in Milwaukee, the city I love. It was a batshit, terrible, dystopian day. We have a stay-at-home edict, Summerfest and the Democratic National Convention were both postponed, but the election was ordered to go on here. Not only that, but the usual 180 plus polling locations were reduced to 5 for the entire city of Milwaukee, population of about 600,000. Waukesha, a suburb of 70,000, had 1 open. Thousands of absentee ballots were requested but never arrived. Lines to vote stretched on for blocks of brave voters who had to choose– risk their health or vote. Trump's words on the situation: "not my problem." These games being played with people's lives have left me sad and angry.
The next day, Bernie Sanders dropped out. Let's ask the important questions here, like the 5 Ws (no, not the 5Gs, settle down) which are: Who, What, Where, When, and of course:
Ok! Excuse me now while I dunk my head in cold water and try to get through the rest of this week. Best wishes to all of you out there in this crazy world.

My upcoming book American Madness features a journey through conspiracy culture. It's out August 25, 2020 from Feral House. To pre-order: CLICK HERE
It's on Goodreads here: https://www.goodreads.com/book/show/52486773-american-madness
Follow me on:
Facebook//Twitter//Instagram//YouTube
"Having just returned from the grocery store during an official pandemic, I'm reminded to highly recommend Apocalypse Any Day Now, from Tea Krulos, who went way down the doomsday prepper rabbit hole. Fun and unfortunately highly relevant. Do it." — Brent Gohde, Cedar Block/ Science Strikes Back
Every Saturday during quarantine, I'm hosting online trivia via Facebook Live:
"That being said, I do believe there is a group in Brussels, Belgium, that do eat aborted babies."– Matthew Lusk, QAnon member and Florida Congressional candidate
I wish I were joking with this week's column title, but I'm not. Media Matters for America, a liberal watchdog group that monitors right-wing media, has identified 24 candidates (though two have already dropped out) who have launched 2020 campaigns that are promoters of the QAnon theory. Yikes.
QAnon is a cult-like conspiracy following that believes in a Trump Messiah. I wrote about them in a chapter of my upcoming book American Madness: The Story of the Phantom Patriot and How Conspiracy Theories Hijacked American Consciousness (Aug.25, Feral House) in a chapter titled, simply enough, "Q."
QAnon beliefs go in a number of crazy directions, but the heart of the belief says that Democrats are running a secret satanic pedophile ring (the Pizzagate theory ties into this) and are practicing cannibalism. They believe Trump is silently plotting a day of reckoning, referred to as "The Storm" when all of these liberal villains– "Crooked Hillary," Obama, "Nervous Nancy," members of the Fake News media, and everyone else part of the "Deep State" will be rounded up, given military tribunals and sent to rot in Guantanamo Bay. Cryptic messages about this "Great Awakening" are sent to the initiated by a figure known as "Q." There is much speculation on who Q is. Some say it is John Kennedy Jr., who faked his death and is secretly helping Trump out, or that it is Trump himself or someone in his inner circle. Spoilers: Q is probably an Internet troll. 
There are many times QAnon has pointed to Trump supposedly acknowledging them– most recently I was amused to see that the Associated Press talked to QAnon members at the Milwaukee Trump rally that I attended and said they "believed the president had traced the shape of the letter 'Q' as a covert signal to followers of QAnon." ["'QAnon' conspiracy theory creeps into mainstream politics,"Associated Press.]
You can identify QAnon believers by the lingo they use, often signaled as hashtags. "Where we go one, we go all" (abbreviated to wwg1wga) is the QAnon phrase of solidarity. "The Storm," and "The Great Awakening," refer to the QAnon revolution and "trust the plan" is another common signature. Q leaves "drops" and "breadcrumbs" as clues.
Some analysis of the QAnon candidates: Twelve states have QAnon candidates. California and Florida are tied with the most QAnon Congress hopefuls at five each. California has two vying for the 36th district (a huge mass of land east of LA in the Joshua Tree State Park), while in Florida, two are also competing for the 22nd district (which includes Fort Lauderdale and Boca Raton). Texas follows with three (though one dropped out) and Minnesota with two. The candidates are split almost 50/50 between men and women. All but one (a Libertarian) are running as Republicans.
The most infamous of these contests include Matthew Lusk, running in Florida's 5th district (which includes Tallahassee, Jacksonville) unopposed, meaning he'll be running in the general election against Democrat Rep. Al Lawson. Lusk's website includes a page devoted to Q, which only has three words of information on it:
Danielle Stella of Minnesota is running against Ilhan Omar, a favorite liberal villain.  Stella says Omar hired a hitman to kill a woman and was banned from Twitter after tweeting that Omar should be hung for treason. She's been a guest on InfoWars, and on a QAnon YouTube channel called "Patriot's Soapbox." She apparently also has a problem with shoplifting "cat merchandise."
Another QAnon contender (and InfoWars guest) is DeAnna Lorraine Tesoriero, running against top Trump enemy Nancy Pelosi in California. As noted in the #TrumpConspiracyCounter, Trump has retweeted Tesoriero.
Here's the list of known QAnon members running for office in 2020:
Daniel Wood, Arizona's 3rd District
Dan Belcher, Oklahoma's 5th District
Matthew Lusk, Florida's 5th District
Michael Blumeling Jr., Florida's 21st District
Jeremy Brown, Florida's 14th District

Christine Scott, Florida's 22nd District

Darlene Swaffer, Florida's 22nd District
DeAnna Lorraine Tesoriero, California's 12th District
Erin Cruz, California's 36th District
Ignacio Cruz, California's 39th District
Rhonda Furin, California's 45th District
Patrice Kimbler, California's 36th District
Joanne Wright, California's 34th District

Marjorie Taylor Greene, Georgia's 14th District

Steve Von Loor, North Carolina's 4th District

Rich Helms, Texas's 33rd District

Michael Moates, Texas's 26th District (dropped out after sending creepy messages to teens)
Joe Walz, Texas's 22nd District

Nichole Williams, Tennessee's 1st District

Gary Heyer, Minnesota's 3rd District

Danielle Stella, Minnesota's 5th District
Bobby Jeffries, Pennyslvania's 10th District (has reportedly dropped out)
Jo Rae Perkins, Oregon's 4th District
Lauren Witzke, Delaware, candidate for U.S. Senate
Source: "Here are the QAnon Supporters Running for Congress," Alex Kaplan, Media Matters for America.
This is crazy, damn damn damn crazy. It shows how important local elections can be. Please look into your local elections and VOTE. Don't let these candidates and their imaginary friend Q get into office.
My upcoming book American Madness features a journey through conspiracy culture, including QAnon. It's out August 25, 2020 from Feral House. To pre-order: CLICK HERE
Follow me on:
Facebook//Twitter//Instagram//YouTube
"Journalist Tea Krulos has made a curious and enlightening career out of examining groups of people with odd beliefs." — Skeptical Inquirer
As noted in today's column, Trump has already gotten a number of hits on the #TrumpConspiracyCounter by retweeting followers of QAnon, including some this week. Here's the tallies for Feb.6-12.
64.) Feb.6: Trump, furious at Romney for voting for one of the articles of impeachment, posts a video that promotes Mitt Romney as being a "secret Democrat asset."
65.-71.) Feb.6-7: Bongino! Dan Bongino has racked up the most #TrumpConspiracyCounter points so far this year. He's a former InfoWars regular, NRA-TV host, and now a FOX contributor and author of conspiracy book Spygate.
72.) Feb. 6: G'day, mate: Trump retweets Australian conspiracy theorist Miranda Devine, who has promoted the white genocide conspiracy theory, as well as climate change hoaxes, including a strange one that suggests Boeing planes crashed because of pressures to make them more eco-friendly. Make your brain hurt here: "NY Post Columnist Miranda Devine Bizarrely Blames Climate Concern for Boeing Disasters," Daily Kos.
73.) Feb.6: Trump retweets Charlie Kirk, founder of college orientated Alt-Right Turning Point USA, promotor of many conspiracies, most recently Iowa voting theories.
74-75.) Feb.9: Retweets of Big League Politics. Started by a former Breitbart News writer Patrick Howley, who has called Alex Jones "my Walter Cronkite." Formed in 2017, the site has promoted several conspiracies including QAnon, the Clinton Body Count, and Charlottesville false flag conspiracies.
Source: "Roy Moore Consultants' New Project: A Conspiracy-Theorizing Pro-Trump News Site,"Daily Beast.
77.) Feb.9: Trump retweets Red Pill Report, sharing a video of House Judiciary Chairman Jerry Nadler being shouted at by a heckler. The video was made by a QAnon YouTuber called "In Pursuit of Truth."
78.) Feb. 9: Trump goes on an ALL CAPS Tweet freakout, ranting about the Spygate conspiracy. It read, in part:
SIMPLY PUT, THE PARTY IN POWER ILLEGALLY SPIED ON MY CAMPAIGN, BOTH BEFORE AND AFTER THE ELECTION, IN ORDER TO CHANGE OR NULLIFY THE RESULTS OF THE ELECTION. IT CONTINUED ON WITH THE IMPEACHMENT HOAX. Terrible!
79.) Feb.10-12: These could be stretched out to several counts, as over two days Trump tweeted and spoke to the press in defense of his old campaign advisor and conspiracy theorist (and possible Batman villain) Roger Stone.
Stone has a hand in Trump becoming president, being one of the early people to suggest a White House run to him in the 1980s. In 2015, Trump tapped him to unleash the "Stone's Rules" playbook. Stone has a long career as being a self-described "dirty trickster" as well as being a conspiracy theorist, spreading ideas like the Clinton Body Count, the Deep State, and many others. He teamed up with Alex Jones and had his own InfoWars show.
Although Trump claims "nobody really knows what he did," the 7 felonies charged against Stone are specific– obstructing an official proceeding, witness tampering, and five counts of making false statements to Congress for his roll in trying to get dirt on Hillary Clinton from WikiLeaks and intimidating witnesses to lie from him.
After the Department of Justice announced a 7-9 year reccomended prison term, Trump vigorously defended Stone, saying his sentence was a "miscarriage of justice" and "very unfair" and that the Stone prosecutors were "rogue prosecutors maybe? The Swamp!" Attorney General Bill Barr stepped in to say that the sentence wasn't reasonable and would not "serve the interests of justice." The four prosecutors who made the sentencing recommendation all withdrew from the case, with one quitting the Department of Justice completely. Many have speculated Stone will end up being pardoned by Trump, though he wouldn't provide an answer when the press asked him.
More on Stone's dirty trickster history:  "A Brief History of Roger Stone," The Atlantic.
80.-82.) Feb.10: Retweets of Tom Fitton/ Judicial Watch. Fitton is president of conservative activist group Judicial Watch, which has spread conspiracies about the Clinton Body Count, voter fraud, Spygate, George Soros, climate change, and others.
You can find the #TrumpConspiracyCounter on Twitter: twitter.com/TrumpConspirac3